Home
›
Tools
[Tool] Terahelper
Since Teratoday is more going to close I decided to copy my Terahelper Post
What is Terahelper?
It is a tool to open/edit/save tera's *.gpk files.
What is different to existing tools like UtHelper?
You're able to edit audio files and got some cool features like copy&paste. And it is open-source.
How does it look like?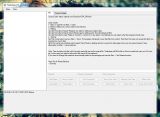 How do I use it?
I would suggest to just try it out. If you need assistance ask in this thread or watch this tutorial.
How do I get this awesome piece of software?
Download it here
Source Code
Changelog
Version 0.13
- Made alpha channel background configurable
- QoL improvements, added hotkeys
- Dependency update
Version 0.12
-Fixed crash in the search function (thanks to Owyn for reporting it)
-Added more info & "warp around" at the search function
Version 0.11
-Added Texture2D Support (DXT1, DXT5, A8R8G8B8)
-Added a utHelper like context-menu
-Added a simple search
-Added a sort by package mode
Version 0.9.1
-Added Drag&Drop to Packagelist
Version 0.9
-Bugfixes
-Add name added
Version 0.8.1
-Save fix
Version 0.8
-Included DLLs in exe
-Added big bytearray property imprt (Misc menu)
-Added big bytearray property export (Misc menu)
-Added parallel saving
-Added parallel file loading
-New file loading progress thing
-Reduced the number of logger spam (mostly info -> debug)
-Added JIT Dataloader (the performance increase on loading is not as I
thought, it mainly saves you memory)
# It is activated over Settings -> JIT Data
-Added mass property set. Prefactored for VolumeMultiplier and there is also a custom option that is completly user set.
-Added more dynamic saving. Names are now checked if they are used and
count, offset values are now recomputed before we write the actual file.
Misc
Todolist:
- Texture2D support to replace uthelper fully...
- Your suggestion could be here.
Oh and if you occur strange errors it would be helpful for me to get a logfile (on trace log setting) of that.
Leave a Comment